The primary source for all things Magellan, the journals of Antonio Pigafetta, are now available online.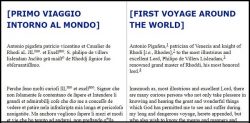 The Gutenberg Project, a volunteer project to digitize and archive cultural works, is the largest and oldest digital library online, comprised mainly of works in the public domain. Volunteers with this project work to digitize these old and valuable texts to make them available to the public. It is our good fortune to have the journals of Pigafetta, in both Portuguese and English, available on this site. The journals are available to download for free to your Kindle or as plain text. But you can also read them online. The digital transcript of the journals was made from the original document which exists in the Biblioteca Ambrosiana, Milan, Italy.
These journals appear in two volumes on Gutenberg. They are part of a larger collection that focuses on the Philippine Islands and their history. Pigafetta's journals make up volumes 33 and 34 of this set.  The Portuguese and the English translation are presented side-by-side. Do explore the Gutenberg Project for other sources of Magellan's story, but for a direct link to our favorite storyteller, click here.